Outdoor Furniture Vietnam Hanging Swing Chair
For a long time, the swing chairs have been a symbol of the childhood of each child and family. When I was a child, I went to the park with my family and friends. My hometown is near the beach and the park. Sitting on the hanging chairs special attention by children, because it is the place where all family members gather at the weekend, have a walk, relax and enjoy fresh air. And if you are still wondering, 4 beautiful outdoor hanging swing chair models with GOOD QUALITY  will be unboxed for your home living.
Outdoor Furniture Vietnam All-Weather  UV Resistance Egg Shaped Rattan Hanging Swing Chair
Outdoor hanging chairs with modern design for any space.
Sit in luxurious comfort while surrounded by the peace and beauty of your backyard with this All Weather Wicker Outdoor Patio Furniture synthetic wicker hanging egg chair with cushion and stand. This steel swing chair is wrapped in beautiful synthetic wicker with a rich espresso finish and features a gorgeous, intricate design. You will relax and feel so comfortable on the tufted, single polyester cushion while you reading, napping, or just enjoying a little time to yourself.
Supported by a durable steel stand, this hanging egg chair will quickly become a favorite retreat for everyone in the family. It can create an impressive entertainment area that's perfect for the whole family. Adding sophistication and elegance to your outdoor living area, these chairs will certainly impress everyone.
Beautiful Wraparound Backrest Outdoor / Indoor Hanging Swing Chair
This chairs can be used both indoors and outdoors without sacrificing aesthetics and durability.
An Loc Garden Furniture Vietnam hanging chairs are well known for the fact that they're comfy as well as for the coziness they bring anywhere you place them. They share a lot of things in common with hammocks and they come in a wide range of designs, shapes and styles. Hanging chairs are suitable for both indoor and outdoor use and some models can look just as great in both locations. Others are designed specifically for outdoor or indoor use.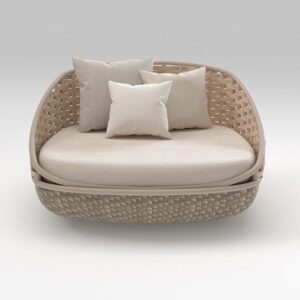 An Loc Outdoor Patio Leisure Furniture Powder Coated Iron Frame Balcony Rattan Hanging Swing Chair
Escape to an exotic island of serenity with the An Loc Outdoor Patio Leisure Furniture swing chair. Made with a luxurious synthetic rattan weave and plush all-weather fabric cushion, Hides make it easy to immerse yourself in a good book. Hide comes with a sturdy powder-coated steel frame and hanging chain apparatus that works well to enliven your patio, backyard, porch, or poolside decor. Stand-alone swing hammocks are also popularly used in indoor lounge, living, or bedroom spaces.
It can create an impressive entertainment area that's perfect for the whole family. Adding beautiful decoration to your outdoor living area, these sets will certainly impress everyone. When you buy outdoor furniture, you will discover how versatile they can be. Durability is the top priority together with comfort and style. Most pieces are waterproof, UV resistant and are made with rustproofing materials.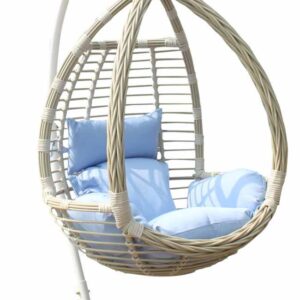 Outdoor Wicker Furniture Set Outdoor Iron Ceiling Hanging Swing Chair
Offering room for you, the Outdoor Wicker Furniture Set swing chair with cushion provides the perfect means for a little escape. Fun to look at and equally enjoyable to curl up in, this exclusive is composed of a steel frame that hangs securely from a powder-coated steel stand. Sturdily built, this chair is made to hold up to 300 pounds. Simple but chic, the iron construction is finished in driftwood for a look that recalls effortless style. A fluffy, tufted polyester cushion fits snugly within the chair frame, inviting you to settle in and relax.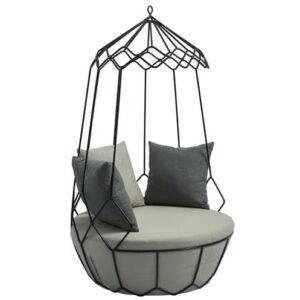 (213)