Outdoor Leisure Chairs
1. Introduction to Outdoor Leisure Chairs
Outdoor Furniture Supplier Outdoor Leisure Chairs
Long time ago, traditional ropes have been around since ancient Egypt. In those early days, the primitive Egyptians used this rope to make chairs. material was less popular thousands of years ago. It is a comeback in recent years as a staple material in most different styles of furniture.
Outdoor Wicker Patio Rope Furniture is highly appreciated for its durability and versatility creating a wide range of elegant styles.
2. Features and uses of outdoor leisure chairs
The Outdoor Wicker Patio Outdoor Leisure Chair is a creative and highly applicable material. This material can knit, tie, braid, bend, create flexibly so it is very popular with designers.
In addition, thanks to the strength of the rope, the product is hard to break or is out of order. In the past it was often used to weave baskets, now it is more often used in interior decoration. With good resistance to all kinds of weather even heavy rain and strong wind. Therefore, today we often use it in interior decoration.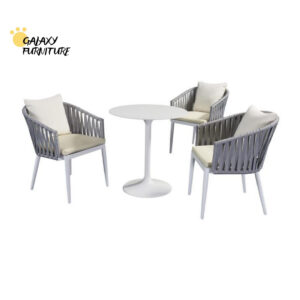 Another benefit of rope furniture is that it doesn't fade when exposed to sunlight or UV rays. The material contains polypropylene, which provides natural protection against sun fading. You can put it on the porch, balcony, or in the garden no matter what. Of course, you should take good care of your furniture when exposed to awful weather conditions so that it lasts longer.
Adding a pillow or seat cushion will increase the appeal that will make your guests feel at home. Thanks to the colorful rope material, the space becomes luxurious and comfortable.
3. Outdoor Furniture Supplier made of wicker in the interior decoration
Consumers today are very fond of small outdoor sofas or a set of tables and chairs. Charcoal aluminum frame combined with all-weather wire is to create a comfortable chair placed in small spaces like balconies.
Some people like to put chairs and sofas outside to increase relaxation. There are many styles like luxury, classic, elegant, modern, traditional styles. This makes your outdoor space become a relaxing haven.
(213)